From time to time we will keep you in touch with what's going on at BDS here on our news page, read on...
You will find all the news from 2016 on this page.
We also have a news archive... Click a year to read all the news from then - Or click here for the latest news
2016
December 2016 - Bancroft Move to New Offices
BDS have been rewarded the fit out of Fire Alarms, Intruder Alarms and CCTV to Bancroft's new offices in Harbour exchange. BDS have worked closely with its main contracting customer since 2003. Understanding the high levels of workmanship that Bancroft demand and building up a long-term relationship has now been rewarded with BDS being intrusted to provide its key services to its most valued customer. We wish them all the best in their new location.

December 2016 - BDS become a FirePro Distributor
BDS have used a FirePro suppression system application in an engine test facility. The systems are compact, easy to install and not pressurised making them a unique fire extinguishing solution for any industry.
FirePro systems are currently protecting thousands of critical applications for numerous leading organizations around the world.

FirePro is effective against Class A (debris), B (fuel), C (electrical) and F (oil) fires. The autonomous fire detection and suppression system works by flooding a volume of space, such as a vehicle engine compartment, with a patented fire extinguishing agent of condensed aerosol. The system can be easily retrofitted to existing equipment providing a cost-effective solution - http://www.firepro.com/en

November 2016 - East India Club Fire System Upgrade
The original Fire systems at East India Club St James Square comprised of a hard-wired Morley fire alarm system Linked to an EMS 5000 radio detection system due to the age & complexity of having two systems and the lack of support of the old EMS radio system the client decided to combine the systems
BDS upgraded the Old Morley system and replaced all devices with new Apollo Detection we then upgraded all EMS devices to Apollo Expander units combining the two systems into one giving greater end user control

November 2016 - BDS Awarded Fire System maintenance at Moorfields eye hospital
BDS are very proud to announce The Moorfields estates team have entrusted BDS to provide service & maintenance to their Fire Alarm System Following the successful Onyx Graphics package upgrade. Comprising of a 2-hour emergency response and four visits per annum also being flexible with the attendance due to access issues and operational concerns a programme of works was provided giving full visibility of devices tested using the Alarm Master software tool. Our Accounts manager Harry Blyde then arranges a quarterly management review meeting with the client to discuss progress and any recommendations that may have come to light during the maintenance inspection

November 2016 - New Faast Aspirating system installed at Fords Boiler House
FAAST Fire Alarm Aspiration Sensing Technology™ is a new generation of smoke detectors, which uses advanced technologies and software to deliver the earliest and most accurate smoke detection. The FAAST device range is designed to protect people and assets in even the most challenging environments where standard detection methods fail or are prone to false alarm, or in areas which may not previously have been protected. We have installed the system in a Boiler Room and Sub Station where high level access for maintenance is limited, Override facilities allow continual working during routine servicing. The system is then networked via ID3000 & ID2Net monitored to DRAX Graphical front end.

October 2016 - Fire System upgrade & Wagner Aspirating to Meira GTX laboratories
Meira GTx is committed to the development of novel gene therapies to transform the lives of patients suffering from acquired and inherited disorders. They are based in Britannia Walk, Old Street London. BDS have been nominated the full fire alarm package by CRC which are one of the UK's leading specialists in the design and construction of cleanrooms and controlled environments for science and technology.
BDS were tasked with the provision of an automatic detection system that incorporated the adaption of the existing Advanced Apollo protocol system, together with the provision of Three Duel Aspiration panels and One single port system manufactured by Wagner to protect the basement levels.

October 2016 - ISS choose BDS to fit out the Fire Alarms to their new offices in Weybridge
Our remit was to isolate the existing House Fire Alarm system install and network a new Advanced MX-4202 fire alarm system to L2 standards to the 2nd & 3rd Floors using Apollo protocol once the fit out was completed the system was then network interfaced to the main house alarm system to become one operating system.

September 2016 - BDS have moved...
Well, after all of these years at Shepley House we have moved, we're on the same road as before, we've got the same postcode as before, but we're 500 yards down the road...

BDS, Restmor Way, Hackbridge, Surrey, SM6 7AH
September 2016 - Kings College Hospital - Ruskin Wing upgrade
Works have begun on the fire alarm upgrade of Ruskin Wing following the installation of the Helipad The helipad amenities block is protected with Apollo protocol devices connected to the site wide Morley fire alarm control panel network.
In September the 10th and 8th floors have been upgrade to Apollo devices, replacing the existing Autronica system. The 9th floor is currently under refurbishment and will be protected with Apollo devices on completion due round Christmas time.
This forms a continual programme of upgrading the fire alarm system throughout the entire Ruskin Wing and it is expected that the 7th, 6th and 5th floors to be completed this financial year.
August 2016 - Bond Primary School Mitcham
Bond primary School based in Mitcham, have just had a Replacement fire alarm system installed using a Morley ZX5Se (4 loops used) replacing all devices with Apollo XP95 devices the new installation also catered for extra automatic smoke detection following a risk assessment.
Our Remit from the consultants was to retain as much of the existing cable as possible creating new loops and ensuring the new system was fully addressable providing exact location details of any activated device
August 2016 - BDS Achive NACOSS Accreditation for Security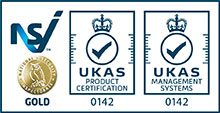 BDS has been assessed and satisfies the requirements of the NSI NACOSS GOLD SCHEME with respect to the following scope: the Design, Installation and Maintenance of Electronic Security Systems including: Access Control, CCTV Systems, Intruder Alarms in accordance with the requirements of: BS EN ISO 9001:2008, NSI SSQS 101, NSI NCP 109, NSI NCP 104, P06662:2010 and BS 7858:2012
August 2016 - Teach First 6 Mitre Passage, Greenwich
BDS were pleased to be recommended by one of our existing clients, for the provision of an Access Control System for Educational premises occupied by Teach First.
A meeting with the Client, identified a number of specific requirements in regards to the functionality required of their Access Control. Added security measures included employee photos on named Access Cards. In response to safety concerns, and to allow for the knowledge of who was on site at all times, which is a necessary measure in the event of a Fire or Security Alert. BDS took a multi-disciplined approach, are were able to link the Fire Detection and Alarm System to the Access Control System. A printable register is now available in connection with the PAXTON PC based, Access Control Equipment, providing details of all the people who are currently within the premises.
August 2016 - BDS Win Fire Systems upgrade to BHP Billiton (Victoria – London)
These premises were built in 1997 and had been experiencing operational difficulties with an older design sixteen-loop analogue addressable fire system, for some time. We were asked to carry out an assessment of the existing fire system arrangements, to determine the potential system upgrade opportunities. Please see our recent case study here
July 2016 - DHL Bedford – Distribution Warehouse £70K upgrade to Fire alarm interfacing to Pre-Action Sprinklers
This extensive warehouse was provided with high-level racking, that required the inclusion of an in-rack Pre-Action Sprinkler System. BDS were tasked with the provision of an automatic detection system, that incorporated the adaption of the existing Beam Detection arrangements, together with the provision of Aspiration detection.Go to our case studies section for more details
July 2016 - William Morris School
A sixth form annexe has been attached to William Morris School. BDS were asked to integrate the existing Vigilon system which was using the older 34000 Protocol, the system was given a new software upgrade so as to incorporate the new S quad protocol proving the flexibility and backward compatibility of the Gent Vigilon system and saving on the need for a total upgrade
July 2016 - Kingsclere - Apprentice Jockey Dormitory Fire System upgrade Main House Intruder Alarm Installation
From a much appreciated introduction from Race horse trainer Ralph Becket whose stables have been maintained at Kimpton Down for the last 5 years. BDS were given the opportunity to Supply a new Fire Alarm System and Intruder alarm to Andrew Baldwin's stables at Kingsclere, the Jockeys Dormitory required a Fire Risk Assessment to determine the risk, Due to the building being used as sleeping accommodation a C Tec 2 loop XFP Fully Addressable Fire panel was chosen together with Apollo smoke detection to L1 category BS5839 Pt 1 2013. The Intruder system provided by BDS was to protect the client's main residence
Our very own Harry Blyde also had the privilege of meeting champion Jockey A P McCoy whist commissioning the Fire Alarms
June 2016 - Greenshaw High School
The London Borough of Sutton's planning committee granted Greenshaw High School the necessary planning consent to commence the construction of a three storey extension to the front (west facing) elevation of the school, as well the refurbishment and remodelling of existing corridors, staircases, rooms and communal areas within the main school building
BDS have provided a new fire alarm and disabled refuge system to the newly built block. consisting of a new 2 loop Morley ZX2se located in the new reception area and networking onto the existing fire alarm system, using Apollo XP95 Devices. The disabled refuge system is a Baldwin Boxall Omnicare with stainless steel outstations and disabled toilet alarm kits connected onto the refuge system. Works continue with the future plans for expansion
June 2016 - BDS London to Brighton
BDS continued to support the British Heart Foundation with its 3rd consecutive trip to Brighton
June 2016 - The Three Peaks challenge in aid of Fire Sport UK
The following week two of our Employees Tony Watts & Bob Brereton teamed up with the Ford Dagenham Fire crew to take on the three Peaks challenge in aid of Fire Sport UK
June 2016 - Human Focus from BDS...
Click here to read this fascinating articlce on Human Focus from Graham Hawkins our Compliance Manager...
May 2016 - 25 Knightsbridge
BDS have completed a supply and commission project using Eatons CF3000 addressable fire alarm equipment. For Canningdale Services LTD who were working on behalf of Overbury. This system had a total of 139 devices connected onto the system to provide a Cat A fit out on all floors.
May 2016 - Chelsea Island Marketing Suite
Working for ARK M&E to supply, install and commission a fire alarm and CCTV system to the newly created marketing suite for the Chelsea island project. BDS supplied and installed a Bi-Wire Conventional Fire alarm system manufactured by Eaton & a Four channel DVR using IQ CCTV 1080p weatherproof Bullet cameras. These works have lead onto BDS obtaining the service agreement with Hadley Group for the fire alarm and CCTV maintenance for the next 12 months.
April 2016 - CCTV protects local Pharmacy...
'Our customer, 'The Woodlands Pharmacy' wanted to protect their staff and goods against theft and violence. We recommended and installed a 1080P HD camera system, which we also networked onto our customer's tablets and mobile phone devices, allowing our customer to view the premises at any time and thus giving them the peace of mind that both their staff and goods were safe and secure. The Woodlands Pharmacy were extremely pleased with the system, expressing their satisfaction with the image quality and resolution of the cameras installed
Tom Bannister
Security account manager
April 2016 - BDS Home Automation Bespoke, Discrete, Smart...
BDS have taken the next steps with its offering of Home security solutions by offering Smart Home Solutions Teaming up with HDL (http://www.hdl-uk.co.uk/)
Take comfort in knowing that your home and family are safe with added security solutions. BDS Smart locks can notify you of daily traffic, answer your door via your smart video entry system then open a gate or a garage allowing a parcel to be dropped off or Bins to be put out you can then watch movement on your security cameras which are accessible from your smartphone

When your home or away you can control heating and lighting, the list goes on. Control every aspect of your house from wherever you are, using your smartphone or tablet, at home your touch screen, remote or keypad will become invaluable. BDS Home Automation Systems have a consistent, easy-to-use interface that ensures controlling your home will be effortless, despite the complexity that goes on behind the scenes.
March 2016 - Advanced Electronics Fire alarm panel using Apollo protocol...

Bespoke Detection Services have been contracted by Optimum Electrical Solutions Ltd to design, supply, install and commission the new fire alarm system within Fountain Court Chambers as they are now expanding into 36-39 Essex Street. The fire alarm system is to be an Advanced Electronics Fire alarm panel using Apollo protocol.
The client is to occupy the building in phases so the building is to remain operational throughout the contract and particular emphasis was taken in the selection process to evaluate the Quality, Health and Safety processes that would ensure protection of the staff during the execution of the works
Fountain Court Chambers is a long established and substantial set of commercial barristers, based in the Temple, London, but also with new offices in Singapore's financial district.
March 2016 - Science Museunm mathematics gallery...

BDS engineers have now begun installing Vesda Scanner aspiration units to provide automatic detection within the ceiling void and rooms in the newly redeveloped mathematics gallery of the Science Museum. Our engineers are working alongside the museums incumbent fire alarm provider Siemens so they are incorporated with the main fire alarm system and report back on the site graphics package.
During the design stage BDS had to take into consideration the bespoke ceiling shape which replicates the wind tunnel effect around an aeroplane, being a key feature inside this gallery.
February 2016 - Radio Control Fire Door Holders fitted at School

BDS have installed Salamander Fire door holders controlled by radio signals from a central controller.
To the corridors of St Elphes School
Innovative wire free radio technology means quick and easy fitting with no unsightly cables and no need for major renovation. Salamander door holders can be relocated to different doors as building layout changes.

| | | |
| --- | --- | --- |
| | | |
| Salamander controller and booster | Salamander Door Closer | Salamander door holder |
Download our Salamander Data Sheets by clicking on a link above
February 2016 - Project Farm...
BDS continue its good working relationship with Bancroft being rewarded Project Farm, based in Newman Street London W1: The Farm Group provides complete post production services out of its locations in London's Soho, Bristol, Manchester and Los Angeles.

BDS were asked to supply install & commission Fire Alarm Systems using a Morley control panel with Apollo protocol, Texecom Security, Access control by Paxton, Video Entry by Videx & Disabled W.C. Alarms by C Tec The project is worth £70k and has a short turn around completion is due end of April
January 2016 - Fire Alarm Graphics Installation at the Moorfields Eye Hospital

BDS have been contracted to supply, Install & commission an Onyxworks Graphics System to the World Famous Moorfields Eye Hospital based in London. This has involved updating the existing 6 Notifier ID3000 Panels onto the network, the commissioning of the Graphic system also involves a 100% test of over 2,500 devices...

Working closely with the onsite maintenance and security departments to mitigate any risk to the day to day running of the Hospital as any unnecessary alarms and evacuations are expensive and inconvenient, instances like this could impact on operations and other critical working 

ONYX Works is Notifier's next generation of integration technology - a PC based graphical workstation that displays fire information directly from your live system. Unnecessary alarms and evacuations are expensive and inconvenient, impacting on working time. By providing the right information, at the right time, to the right person, ONYXWorks gives the user valuable time to check the building and make informed evacuation decisions

Download the full specification and overview of the Notifier Onyxworks Graphics System above
January 2016 - BDS awarded The New Grange Hotel Minories
Grange Hotels London's leading independent luxury hotel group are building a new hotel on the site of the Former London Metropolitan University building. The site lies approximately 75m north of the outer wall of the Tower of London, and demolition of the existing building has already been completed. The project involves the erection of a 10-storey plus basement hotel comprising 265 bedrooms together with ancillary restaurant, bar and retail facilities. BDS have a long standing relationship with the Hotelier and in this instance have picked The Honeywell Gent Vigilion Fire Alarm system together with The OmniCare Emergency Voice Communication System from Baldwin Boxall to provide the very best fire and life safety solution...
Download the full specification and overview of the Gent Vigilion Fire Alarm System above
Download the full specification and overview of the OmniCare Emergency Voice Communication System from Baldwin Boxall above
You will find all the news from the current year on this page. We also have a news archive... click here for 2015, here for 2014, and here for 2013